A Virtual Assistant's Guide To
Working With Professional Speakers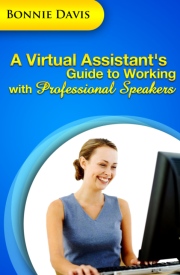 "…This book is very thorough and provides a long list of tasks a virtual assistant can do for a public speaker as well as information about how to do each task more effectively and efficiently. This is a great book for any virtual assistant to read and see how much more they can already do with a little resourcefulness."
– Angela
Are you a Virtual Assistant?  Want to work with professional speakers but don't know where to start?  If you answered yes to these two questions then you need to read the e-book "A Virtual Assistant's Guide To Working With Professional Speakers".  Purchase on Amazon for Kindle format.  Purchase on Smashwords and choose a format from epub, mobi, pdf, lrf, pdb or html.
The author has worked with speakers since 1995 and includes in this guide everything she knows on the topic.
Who should read this guide?
This guide was written with the established Virtual Assistant in mind.  It does not cover business start-up or explain how you start your new business.  There are many other books that cover that material well.  This book helps the established Virtual Assistant find and work with professional speakers.
You may find this guide helpful if you are a new professional speaker who needs to know how to setup an office and get your business established without using outside staff!
Why work with professional speakers?
A full-time professional speaker travels frequently and often works from home when they are in town.  They don't want or need a full-time assistant and they hate the idea of payroll taxes and additional paperwork.  They are the perfect client for a Virtual Assistant.
Professionally edited by Cindy J. Kluger the Table of Contents include:
About Professional Speakers
Why Work With Professional Speakers?
Professional Speaker Organizations
Services Speakers Need
Answering Telephones
Managing Client Calendars
Time Management
How To Find Clients
The Cost-Benefits Of Using A V.A.
Interviewing Potential Clients
Fees
Contracts
Firing A Client
Subcontracting
Working With Speaker Bureaus
Tools
In Closing
Bonuses (Word format):
Sample Contract
Event Summary Sheet
Expense Record
Why should you purchase this guide?
You will find this short guide helpful if you need new clients or if you are particularly interested in working with professional speakers.
What do you get when you purchase "A Virtual Assistant's Guide To Working With Professional Speakers"?
You get the guide and will also receive the bonuses "Sample Contract", "Event Summary Sheet" and "Expense Record" in Word format so you can customize them for your needs.  Check the last page of the e-book to find the link to your bonuses!
"…This particular book gives you details on being a Virtual Assistant to Professional Speakers. It tells you what tools or websites you can use, how to hire someone, all the way to how to fire someone if you have someone that you can't work with any longer. Anyone striving to do any Virtual Assistant job should check out this book because it is helpful even if you do not want to work with a professional speaker."
-Jeff  Medford
Earnings and Income Disclaimer
This guide does not make any claims as to income made by working with professional speakers.  There is no guarantee that you will make any level of income.
As with any business, your results may vary, and will be based on your individual capacity, business experience, expertise, and level of desire. There are no guarantees, promises, representations and/or assurances concerning the level of success you may experience. Your level of success in attaining the results claimed depends on the time you devote to the business, the ideas and techniques mentioned, your finances, knowledge and various skills, since such skills and factors differ according to individuals.